---
Featuring a rigid "Victory" Gator-ize® Eye or a slimmer rigid Standard Gator-ize® Eye

This is the most advanced synthetic winch line for steel and other synthetic winch ropes. Bubba Rope started with a rigid non-metal eye. Strong as steel but safer and lighter than a heavy steel thimble. They coated the entire rope in heavy Gator-ize® vinyl armor resulting in no line "fuzzing" and better protection against abrasion, sand and ultraviolet light. They color banded the winch line every 10 feet so you can quickly gauge the amount of rope you have out at any time. They even included a Gator-Jaw® synthetic shackle and removable Bubba Rope Life Guard™ for added rope protection. Finally, since they hand make every winch line in their factory why not offer to repair them too!
Read a review on the FourWheeler Network.

Suggested Winch Size: 9,000 – 10,000 lbs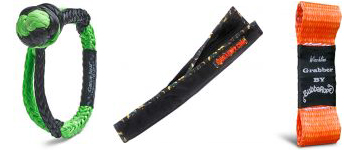 Comes with a Gator-Jaw® Synthetic Shackle,
Life Guard anti-chafing cover and a Grabber.